National Height Modernization Program
Height Modernization is an initiative focused on establishing accurate, reliable heights using Global Navigation Satellite System (GNSS) technology in conjunction with traditional leveling, gravity, and modern remote sensing information.  Read more about the role of NGS in modernizing heights, the history and science of Height Modernization, as well as its applications and benefits.
Role of NGS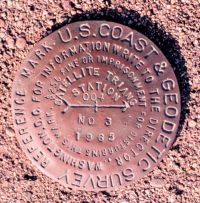 The NGS mission is to define, maintain, and provide access to the National Spatial Reference System (NSRS) to meet our nation's economic, social, and environmental needs.  The vertical component of the NSRS is the vertical datum, which is a collection of specific points on the Earth with known heights or elevations above or below a reference surface approximating mean sea level. 
Round brass disks (bench marks) set in concrete or bedrock or stainless steel rods driven to refusal are most often used to mark positions in the vertical datum. The traditional method for determining the elevation of these vertical bench marks is differential leveling, but the advanced technology of Global Navigation Satellite System (GNSS) has begun to replace this classical technique of vertical measurement in many situations. 
The goals of the National Height Modernization Program (NHMP) are to provide access to accurate, reliable heights nationally; to develop standards that are consistent across the nation; to provide data, technology, and tools that yield consistent results regardless of terrain and circumstances; and to establish a system or process that is maintainable over time.  [return to top of page]
History of NHMP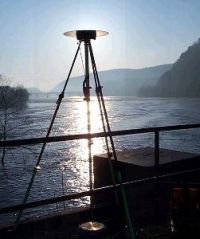 Since the first general adjustment of the geodetic leveling network was completed in 1900, NGS has been responsible for defining the official, legal vertical reference frame in the United States.  In 1929, NGS compiled all of the existing vertical bench marks and created the National Geodetic Vertical Datum of 1929 (NGVD 29). Since then, movements of the Earth's crust have changed the elevations of many bench marks, and other bench marks have been disturbed or destroyed as communities expand or roadways widen.  
In 1988, the vertical control network, including several thousand kilometers of new leveling, was again mathematicallyadjusted to remove inaccuracies and to correct distortions. The new datum, called the North American Vertical Datum of 1988 (NAVD 88), was defined through the leveling network and is the official vertical datum for civilian surveying and mapping activities in the United States performed or financed by the Federal Government. 
During the 1980's and 1990's, there were considerable indications that the utilization of new advances in GNSS technology could achieve significant efficiencies and cost savings. In 1998, the U.S. Congress directed NGS to determine the effectiveness of using GPS techniques to establish accurate heights in California and North Carolina, and the ensuing National Height Modernization Study officially documented the needs and benefits of accurate heights.  Since the 1998 Report, the Height Modernization Program has been funded at varying levels with most appropriations received by academic institutions or state and local governments. Currently the Height Modernization Program continues its state-by-state implementation approach focusing on individual user or state needs, and NGS continues to provide technical expertise and support.  Additionally, regional coordination and communication efforts are increasing; neighboring states with similar needs and challenges are collaborating more, leveraging their resources to create stronger regional networks.   [return to top of page]
Science of Height Modernization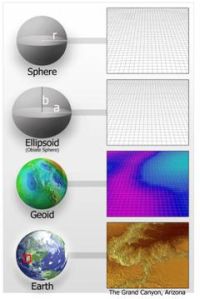 The current Height Modernization program uses orthometric heights from traditional leveling and ellipsoid heights from GNSS to create a geoid height model referenced to the NAVD 88. Conventional geodetic leveling is precise but labor intensive, so it is not feasible or practical to level across the country today as has been done in the past; additionally, leveling yields cross-country error build-up.  It is possible to obtain accurate heights through GNSS, and NGS has published guidelines that define equipment requirements, field procedures and data collection parameters, basic control requirements, and processing and analysis procedures.  Accuracy of GPS-derived orthometric heights depends on both the accuracy of the geoid model and the accuracy of the NAVD 88 control.  NGS makes a gravitational geoid model based on gravity data collected from a variety of sources and a "Hybrid" model that builds on the gravitational model using GNSS on bench marks to enable a fit to NAVD 88.
The early geoid models were accurate, at best, to the decimeter level, and the accuracy was much worse in some parts of the country.  As the capability to achieve accurate heights using GNSS improved, the need for a more accurate geoid model became obvious.  Additionally, greater understanding of the poor condition of the vertical network made the need for improved geodetic control more apparent.  At the same time NGS gravity holdings were analyzed and fell short of expectations for accuracy and reliability.  To address these needs and challenges, the NGS 10-year plan prioritizes modernizing the national vertical datum as one of its five principal technical improvements to focus on in the next decade.  To modernize the national vertical datum, a project called Gravity for the Redefinition of the American Vertical Datum (GRAV-D) is underway, and it will capitalize on technological advances for height determination.  Height modernization will help bridge the gap until the new vertical datum is defined, enabling the determination of accurate heights now where there is critical need.  [return to top of page]
Applications and Benefits of Height Modernization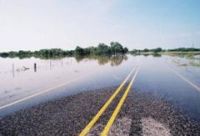 Accurate, reliable, and up-to-date heights are essential for a wide range of activities.  Traditional users include surveyors and engineers who manage construction and infrastructure projects such as bridges, dams, and levees.  Emergency managers need accurate heights to plan and monitor evacuation routes, and there are a multitude of applications for accurate heights in flood or inundation mapping and modeling.  Scientists need accurate heights to monitor and model changes in heights when studying crustal motion, subsidence, isostatic readjustment and seasonal changes like frost heave. 
Agriculture is a relatively new user community, but it uses accurate heights to more efficiently control equipment and apply fertilizer.  Natural resource managers can use heights to manage restoration projects, complete natural resource inventories, or monitor erosion and/or sea level change.  Finally, the increased use of Geographic Information Systems (GIS) has resulted in greater demand for both elevation data and the accuracy needed in many applications.
Tremendous cost-savings will be realized within all user communities because improved efficiency in determining heights and in creating derivative products reduces expenditures for both the public and private sectors.  Additionally, greater accuracy will increase the effectiveness of existing products like flood insurance rate maps (FIRMs).  Improved planning, with the aid of accurate GIS maps, reduces costs by guiding prudent public investment in infrastructure, preparing for natural disasters, and mitigating risks from sea level change. The number of users dependent on reliable height information continues to grow, and new benefits from the Height Modernization Program are realized every day. [return to top of page]
Additional Information
To learn more about projects that have already been completed, check out our regional and state partners web pages and resources.
To learn more about the science of geodesy, check out the NGS website and the NOS Education site.