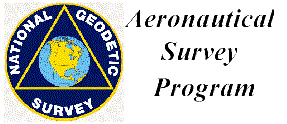 ---
Aeronautical products available through the National Aeronautical Charting Office (NACO) Distribution Division include:
Airport Obstruction Chart (AOC) - a 1:12,000 scale graphic (1:18,000 scale graphic for Denver International DEN 9077) depicting Federal Aviation Regulations Part 77surfaces, a representation of objects that penetrate these surfaces, runway, taxiway, and apron areas, navigational aids, prominent airport buildings, and a selection of roads and other planimetric detail in the airport vicinity. For the listing of available AOCs consult the AOC Dates of Lates Editions. (DOLE)

An Aeronautical Data Sheet (ADS)-NGS Form 292 is provided at no additional cost with each AOC. This document replaces the Obstruction Data Sheet (ODS), formerly distributed with the AOCs. The ADS includes all aeronautical data the NOAA National Geodetic Survey (NGS) acquires and maintains for airports and NAVAIDs under FAA/NGS Interagency Agreements. It contains all data from the ODS plus additional information for runways and NAVAIDs. The ADS is available for all AOCs published after December 1, 1997. AOCs published prior to that date will still include and ODS.

For the AOC published after October 1, 2000, the ADS will be available through a hyperlink in the DOLE.
Aeronautical products available through NGS Information Services Branch include:
| | |
| --- | --- |
| Richmond, VA (RIC) | Aerial Photographs - panchromatic or color photographs of NGS surveyed airports and most U.S. coastal regions, including the Great Lakes. These photographs are acquire dusing the highest quality mapping cameras at 1:15,000 to 1:50,000 contact scales. |

Return to Aeronuatical Survey Program Home Page