What We Do
The National Geodetic Survey (NGS) defines and manages the National Spatial Reference System (NSRS) - the framework for latitude, longitude, height, scale, gravity, orientation, and shoreline throughout the United States. Maintaining and updating this data, as well as conducting research to improve the collection, distribution, and use of this spatial data, is a significant undertaking.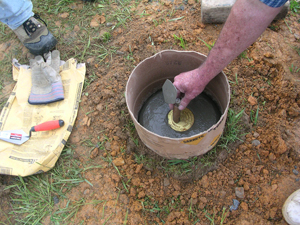 Contractors in North Carolina complete setting a standard
NGS concrete mark for a Height Modernization project
in May 2003.
For over 30 years NGS has been offering contracting opportunities to firms providing services which could assist NGS in the pursuit of its mission. NGS has awarded, or will award in the near future, contracts to firms specializing in one or more of the following fields:
Aerial Photography Over U.S. Airports
Aerial Photography Over U.S. Shoreline
Geodetic Surveying Using GPS
Shoreline Mapping Using Photogrammetry
Shoreline Mapping Using Remote Sensing
Height Modernization Surveys Using GPS
Geodetic Leveling Surveys