Monday, May 06, 2013
National Geodetic Survey Encourages Travel in Recognition of National Travel and Tourism Week, May 4-12
May 4-12 is National Travel and Tourism Week, and the theme for 2013 is the "travel effect"—the effect of travel on individuals, economies, and businesses. (See the "travel effect" website.) In recognition of National Travel and Tourism Week, the National Geodetic Survey (NGS) would like to share a couple of ways we, as part of NOAA, contribute to and encourage travel and tourism.
NGS has produced and set commemorative marks, often in partnership with other organizations. Most of the marks are one-of-a-kind or one-of-a-series disks specially manufactured to mark or celebrate a particular occasion. Commemorative marks are large, visually attractive, and are often displayed prominently at sites frequented by tourists, thus providing a permanent, touchable attraction.
Commemorative marks are also used for positioning needs relative to a local area, and in this way they become part of the National Spatial Reference System (NSRS). (The NSRS is the consistent coordinate system that defines latitude, longitude, height, scale, gravity, and orientation throughout the United States; and NGS defines, maintains, and provides access to the NSRS coordinate system for the nation.) For example, NOAA and the U.S. Census held a ceremony in 2011 to dedicate Plato, Missouri—a village with a population of 109—as mean center of the United States population by setting a commemorative NOAA geodetic control mark (survey disc) in the center of the town.
A brass Corps of Discovery II marker commemorates the symbolic start of the Lewis and Clark expedition. (See commemorative survey marker and map of Lewis and Clark's journey, below.) Initiated by Thomas Jefferson, the expedition began to explore and map America in 1803, and to honor Lewis and Clark's contributions to mapping, NGS installed a series of commemorative markers along the route Lewis and Clark traveled, beginning in Monticello in Virginia and ending at Fort Clatsop in Oregon. NGS positioned these markers using modern techniques, including the satellite-based Global Positioning System, and the markers became part of the NSRS. (More about the Lewis and Clark expedition and NGS' history can be found here:
http://www.ngs.noaa.gov/LewisAndClark/information.html )
Setting commemorative marks has provided a unique opportunity to highlight NOAA's precise positioning services, which serve as the foundation for mapping and charting in America.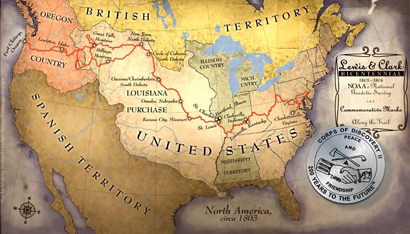 In support of safe travel by the American public, NGS has had a long-standing relationship with the Federal Aviation Administration. NGS has performed or quality controlled aeronautical surveys for the FAA since the 1920's, when NGS was known as the U.S. Coast and Geodetic Survey. NGS survey data provides critical runway, obstruction, navigation-aid, and airport-feature information required to safely fly into airports nationwide.
The Federal Aviation Administration (FAA) uses the data to develop instrument approach and departure procedures, determine maximum takeoff weights, update aeronautical databases and publications, and prepare airport planning and engineering studies. Whereas NGS surveyors performed these aeronautical surveys in the past, the NGS Aeronautical Survey Program of today has shifted from conducting surveys to providing quality assurance, guidance, models, and tools designed to assist other surveyors conducting aeronautical surveys. NGS also participates in accuracy assessment studies of new and emerging technologies—such as Light Detection and Ranging (LiDAR) and satellite imagery—to support the collection of aeronautical information.
In these ways and more, NGS is involved in promoting travel and tourism and to making your trips information, safe, and enjoyable!