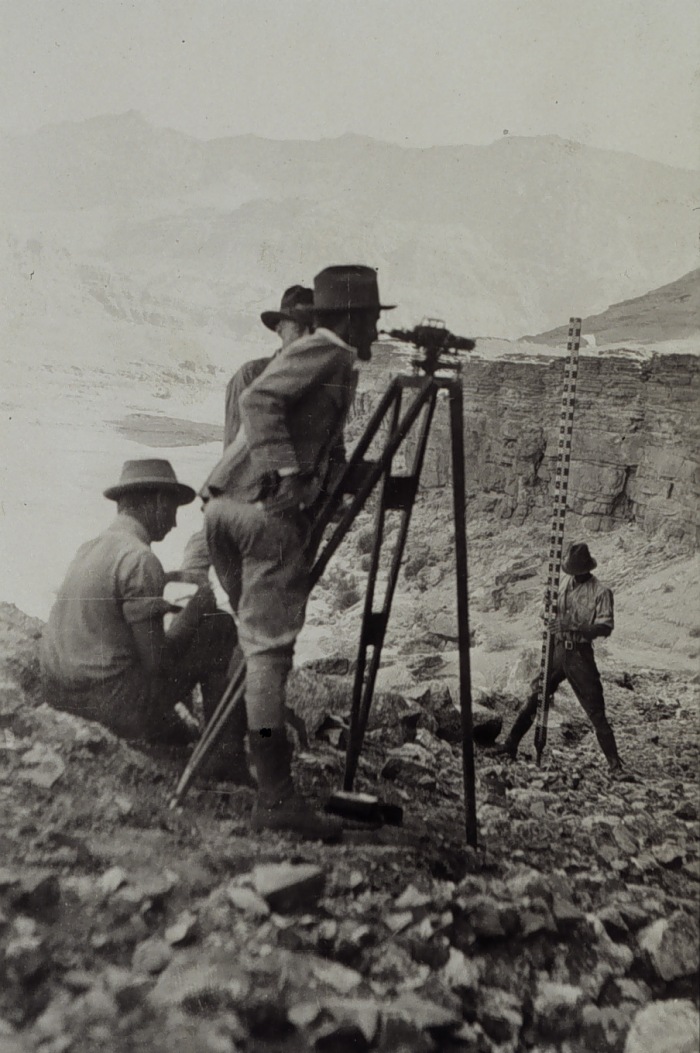 NGS Vertical Network History
The surveying methodology used to establish the vertical control network was Differential Leveling, also called Spirit Leveling. This method uses a survey instrument carefully leveled and a graduated level rod which is initially held on a mark with know elevation. A reading is taken on the rod, which provides the elevation of the line-of-sight through the instrument. Then the rod is moved to an unknown point and read again. Subtraction provides the elevation of the unknown point. Elevation has always been extremely important for a wide range of engineering, construction, and mapping projects. Early in its existence the Survey leveled between tide gauges and tidal bench marks. The first geodetic leveling - the beginning of the vertical control network - was along the Hudson River in 1856. Since then leveling has been conducted all across the U.S. and the results mathematically adjusted into one vertical network.
NGS History Powerpoint An overview of the last 200 years of the history of NGS and its predecessor agencies including how it started, technological advancements, the spread of work that was done by the Survey, and a basic explination as to how the different pieces fit together.
"Establishing Sea Level Datum" by Scott S. Zelenak, 2001, published in "Point of Beginning" magazine. This article references about 10 old U.S. Coast & Geodetic Survey publications, tracing the history of sea level elevations.
Datum Definition Study for NAVD 88 by C&GS, 1991
Manual of First-Order Leveling SP#140 by Henry Avers, 1935
Geodetic Bench Marks by Lt. Richard P. Floyd, 1978
Geodetic Leveling by Shomaker and Berry, 1981
Bench Mark Reset Procedures by Curtis Smith, 2007
Vertically Challenged: The Progression of Vertical Datums by Aria Remondi, 2007
Height Modernization: Leveling the Nation by Remondi and Leigh, 2007
Vertical Datums
1900, 5 Tide Gauges, 21,000km
1903, 8 Tide Gauges, 31,800km
1907, 9 Tide Gauges, 38,400km (Seattle added)
1912, 9 Tide Gauges, 46,500km (San Diego added)
1929, 26 Tide Gauges, 106,700km
1988, 1 Tide Gauge, 625,000km
Vertical Adjustment Reports
1900 C&GS Report of the Superintendent
1903 C&GS Report of the Superintendent
Precise Leveling in the United States, 1903 - 1907
1912 Fourth General Adjustment of the Precise Level Net in the US and the Resulting Sandard Elevations by William Bowie, 1914
History of Geodetic Leveling in the U.S. by Ralph Moore Berry, 1976 Originally printed in 1976 in Surveying and Mapping (now ACSM) vol.36 no.2 pp.137-153
1929 Geodetic operations in the US: Jan 1, 1927- Dec 31, 1929
1929 USC&GS 1930 Annual Report
North American Vertical Datum of 88 (NAVD 88)
1988 Results of the General Adjustment of NAVD 88
ACSM Ad Hoc Committee Report on NAVD 88
Corrections Applied by NOS to Precise Leveling Observations
History of Geodetic Leveling in the US
Impact of the NAVD 88 on the National Mapping Program
National Flood Insurance Program: Transition to NAVD 88
Computing GPS-Derived Orthometric Heights with the GEOID90 Geoid Height Model
Test-Results of First-Order Class III Leveling
NAVD 88 and NGS' Responsibility to the Surveying and Mapping Community
A Priori Estimates of Standard Errors of Leveling Data
North American Vertical Datum and International Great Lakes Datum: They Are Now One and the Same
Analyses Performed by the National Geodetic Survey in Support of the Readjustment of the IGLD
North American Vertical Datum (NAVD) Update
Coordinating Committee on Great Lakes Basic Hydraulic and Hydrologic Data
Geoid Undulation Computations at Laser Tracking Stations
Standards and Specifications for Geodetic Control networks
Federal Geodetic Control Committee General Meeting Minutes
Empirical Calibration of Zeiss Ni-1 Level Instruments to Account for Magnetic Errors
Investigation of Local Variations of Sea Surface
Impact of NAVD 88 on the Surveying Community
OSU89A/B Potential Coefficient Models
Coordinates for High-Precision Networking Processing
The North American Vertical Datum of 1988: Tasks, Impacts, and Benefits
NAVD 88 Datum Definition Study