Wisconsin Height Modernization
Overview | Accomplishments | Regional Activities | Program Details | Contacts
Program Overview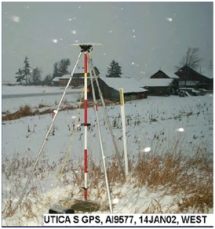 Wisconsin Height Modernization Program (WI-HMP) aims to provide real-time, sub 2 cm-horizontal and vertical positioning statewide through the establishment of accurate, reliable heights using global positioning satellite technology with traditional leveling, gravity, and modern remote sensing methods.
Two reliable, independent networks are necessary to make this accuracy possible. The Geodetic Control Network is a statewide framework of GPS stations and bench marks surveyed to provide the initial latitude, longitude and elevation. The active WISCORS Network is a series of statewide Continuously Operating Reference Stations spaced approximately 50 km apart to broadcast highly accurate real-time corrections. These real-time corrections are used in the field by many diverse user groups. WISCORS data can also be accessed for post processing field observations back in the office.
By 2015, Wisconsin expects to complete initial development efforts throughout the state. Initiatives are being implemented to ensure long-term perpetuation of both networks through a mark preservation program and continued education and outreach.
Accomplishments
75 WISCORS stations currently in production
More than 6,000 Geodetic Control monuments published in the NGS database
Cooperative Partnerships with neighboring states to share border area CORS stations
Improved elevations on Great Lakes and Mississippi River stream gauges
Development of a GIS database for Wisconsin Geodetic Control network stations
WI-HMP maps for each of the state's 72 counties
Regional Activities
Great Lakes Region Height Modernization Consortium
Wisconsin County Surveyor's Association
Wisconsin Land Information Association
Wisconsin Corn/Soy Expo
Wisconsin Farm Technology Days
International Right-of-Way Association
Wisconsin Society of Land Surveyors
Wisconsin Digger's Hotline Safety Meetings
WisDOT Regional Utility Conferences
UW-GIS Day
Various WISCORS Application-Specific User Groups
Program Details
NGS Height Modernization Grant recipient
Partner agency: Wisconsin Department of Transportation (WisDOT)
Principal Investigators: Leonard Perfetti, Wisconsin Height Modernization Program Coordinator
Geodetic Control Network
To report endangered or destroyed survey monuments and missing witness posts, please call (866) 568-2852 or email. Please include:
County, highway, or road which the monument is located on
Designation stamped on the disc
Description of the issue taking place at the monument site
WISCORS Network
Related Links
Iowa Real Time Network (RTN)
Minnesota Department of Transportation CORS (MNCORS)
Michigan Department of Transportation CORS (MDOT CORS)
National Geodetic Survey (NGS)
Trimble Navigation
University of Wisconsin - Madison, Geoscience Research (Professor Chuck DeMets)
Wisconsin CORS (WISCORS)
Wisconsin Satellite Imagery
Wisconsin State Cartographer's Office

Contact Information
Elliot Smith
WISCORS Network Administrator
866-568-2852 phone
WISCORS Network
Geodetic Control Network
Diane Arendt
Geodetic Specialist
866-568-2852 phone
WISCORS Network
Geodetic Control Network
Leonard Perfetti
Wisconsin Height Modernization Program Coordinator
866-568-2852 phone
WISCORS Network
Geodetic Control Network
Dept. of Transportation - Truax Center
Surveying & Mapping
3502 Kinsman Blvd.
Madison, WI 53704
For additional inquiries, contact the State Geodetic Advisor Program or the National Height Modernization Program directly. State geodetic advisors serve as liaisons between NOAA and regional or state organizations.