Washington Height Modernization
Overview | Accomplishments | Regional Activities | Program Details | Contacts
Program Overview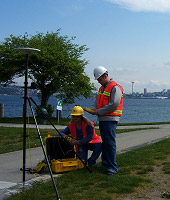 Height modernization in Washington is important for planning in coastal communities, preparing for natural hazards, and maintaining safe shipping and transportation systems. Additionally, height modernization can help replace intensive, high-cost leveling with more cost-efficient GPS tools for mapping and other GIS activities.
The Spatial Reference Center of Washington (SRCW) was created in 2004 and oversees the funding, development and implementation of geodetic network modernization to support access to accurate height information. The SRCW helps coordinate the Washington State Reference Network (WSRN), a cooperative CORS network of approximately 86 systems installed and maintained by a wide variety of organizations.
More recently, the Primary Base Station Network (PBSN) has been planned to supplement the WSRN and existing high accuracy reference network (HARN). Additionally, the Washington height modernization program performs outreach and education regarding geospatial issues and activities as they relate to height modernization; aids in capacity building and technology transfer to support height modernization techniques; and coordinates, cooperates, and collaborates with other entities to accomplish common goals associated with height modernization.
Accomplishments
Washington's WSRN is over 85% complete, comprised of 101 GNSS stations in the state and adjoining areas, all with real-time data feeding to Seattle.  It remains a cooperative program and is currently focused on funding a core set of 32 stations across the state to make them GNSS compatible. The PBSN project continues to move from east to west across the state, and 29 Federal Base Network (FBN) marks and 188 new marks have been measured since 2008.  SRCW has also hosted Height Modernization user forums, provided leveling training, and participated in numerous regional coordinating meetings.
Regional Activities
Height modernization in Washington involves regional collaboration both within and outside the state. Partnerships currently exist with USGS Cascades Volcano Observatory, Earthscope's Plate Boundary Observatory, Washington Geographical Information Council (WAGIC), American Society for Photogrammetry and Remote Sensing (ASPRS) Puget Sound Region, Pacific Northwest Geodetic Array (PANGA), Central Washington University, Oregon State University, and University of Oregon geology departments, the Oregon Dept. of Transportation, the Idaho Dept. of Transportation, as well as the British Columbia Geodetic Survey.
Program Details
NGS Height Modernization Grant recipient
Partner agencies: Washington Department of Natural Resources (WA DNR) & Spatial Reference Center of Washington (SRCW)
Principal Investigator: David Steele, PLS, Director, Geodetic Survey, WA DNR
Publication(s)
Washington Height Modernization Program Plan ... pdf
Related Link
Spatial Reference Center of Washington
Contact Information
David Steele, PLS
Geodetic Survey Director
Washington Dept of Natural Resources, Engineering Division
Spatial Reference Center of Washington
Email
For additional inquiries, contact the State Geodetic Advisor Program or the National Height Modernization Program directly. State geodetic advisors serve as liaisons between NOAA and regional or state organizations.