Texas Height Modernization
Overview | Accomplishments | Regional Activities | Program Details | Contacts
Program Overview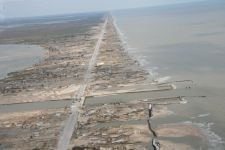 The Height Modernization Project at TAMUCC has established the
Texas Spatial Reference Center
(TxSRC).  The program improves the vertical elevation reference frame for economic, safety and environmental benefits by enhancing navigational and transportation safety and efficiency; reducing flooding related transportation hazards and delays; and reducing human risk, environmental and economic consequences resulting from natural or human-induced emergencies related to flooding.  The project will assist in expanding CORS and GPS stations, will begin to make available real-time corrections from Texas Department of Transportation and New Mexico Department of Transportation CORS, will develop user friendly tools and outreach events, and will assist initiate a statewide elevation monument inventory.
Accomplishments
Since 2005, staff has participated in, attended, or hosted at least 65 meetings of or relating to Height Modernization in Texas.  Over 600 surveyors have been trained in Height Modernization techniques according to NGS standards (in both Texas and New Mexico).  Twenty-two field work contracts have allowed for leveling, bench marks, and GPS control points all over the state including 250 km of hurricane evacuation routes. A CORS was installed and is fully operational at the Galveston Pleasure Pier tide station.  Additionally, a digital leveling tool currently compatible with the Leica DNA03 and Topcon DL 101C digital level has been developed by TxSRC for free public use. TxSRC provided consultation on height control to Brown County, Texas local officials. TxSRC assisted with the blue booking of three geodetic control monuments working with local surveyor. TxSRC used this consultation for a presentation to the 2009 annual meeting of the Texas Society of Professional Surveyors.
Regional Activities
A goal of the Texas Height Modernization program is to enable technology transfer to support height modernization techniques throughout the Central States Region.  Within Texas, active partners include the Texas Department of Transportation, Texas Geographic Information Council, Texas General Land Office, Texas Society of Professional Surveyors, Harris-Galveston Subsidence District, and US Army Corps of Engineers – Galveston District.  Additionally, partners in nearby states include New Mexico Professional Surveyors, New Mexico Department of Transportation, Oklahoma Society of Land Surveyors and Kansas Society of Land Surveyors.
Program Details
NGS Height Modernization Grant recipient
Partner agency: Texas A&M University-Corpus Christi (TAMUCC)
Principal Investigators: Dr. Gary Jeffress, RPLS, Professor, TAMUCC; Dr. Stacey Lyle, RPLS, AssociateProfessor, TAMUCC
Projects
Geodetic Control (2007-2008): Texas Natural Resource Information System supported ($100,000)
GPS on Tide Gauge Bench Marks (2008): US Army Corps of Engineers supported ($111,061)
Geodetic Control (2007-2008): Texas Natural Resource Information System supported ($75,000)
Assessment Of Vertical Accuracy Requirements And Estimation Of Uncertainty And Datum Variability (2009): US Army Corps of Engineers supported ($207,875)
Gulf Coast Height Modernization Project (2012): NGS supported (project page)
Data
All project data is archived and available from Texas Spatial Reference Center.
Articles
Alexey L. Sadovski, Gary Jeffress, Hong-Zhi Song, Natalia Warner, "Some Mathematical Problems of the Geoid Determination in the Coastal Areas of the Gulf of Mexico" Recent advances in Applied Mathematics and Computational and Information Sciences", vol. 1, pp177-182, Houston, 2009
Prouty, D. B.; Lyle, S. D.; Roman, D. R.; Mulcare, D. M.; Jeffress, G.; Sadovski, A.; Aike C. L.; Smith, R.; Childers, V. A.;Brozena, J. M., 2007, "Naval Research Laboratory Gulf of Mexico Geoid Model Texas Reference Center Pilot Project", American Geophysical Union, Fall Meeting 2007, abstract #G32A-05
Jeffress, G.A., "Locating Littoral Boundaries in Texas", Texas Coastal Law Conference, CLE International, Proceedings, Galveston Texas, May, 2006
Additional Notes
Texas continues to encourage NOAA to fully support the National Height Modernization program.
Contact Information
Dr. Gary Jeffress, RPLS
Professor of Geographic Information Science
Department of Computing Sciences
Director, Conrad Blucher Institute for Surveying and Science
Texas A&M University-Corpus Christi
Email
For additional inquiries, contact the State Geodetic Advisor Program or the National Height Modernization Program directly. State geodetic advisors serve as liaisons between NOAA and regional or state organizations.