New York Height Modernization
Overview | Accomplishments | Regional Efforts | Contact information
Program Overview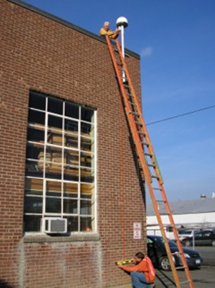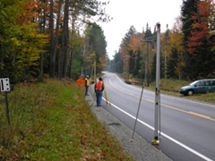 The New York State Department of Transportation (NYSDOT) has contributed to height modernization efforts by maintaining the state's spatial reference networks. NYSDOT currently maintains the New York State Spatial Reference Network (NYSNet), a network of Continuously Operating Reference Stations (CORS) that covers the entire state and supports a real time network (RTN).
Accomplishments
In New York, 44 out of 46 CORS in the statewide network are National CORS with 5 second data available through NGS. Higher data rates are also available through NYSDOT. This network supports real time survey grade positioning statewide to over 1000 registered users including surveyors, engineers, contractors, municipalities, farmers, utilities, and educators. As a result, the network provides accessibility, accuracy, and consistency with the National Spatial Reference System.
In support of height modernization, NYSDOT coordinated public and private participation in the 2002 Federal Base Network (FBN) survey , which integrated observations of the horizontal and vertical control networks in the state. NYSDOT has also completed geodetic leveling to 87 high accuracy reference network (HARN) stations. These stations, with accurate NAVD 88 heights, and accurate Global Navigation Satellite System (GNSS) ellipsoid heights, contribute to improving NGS geoid models, like GEOID09 and future hybrid models. Future plans include using GNSS to transfer NAVD 88 heights to CORS antennas.
As a result of these height modernization efforts, GEOID09 included 197 "GPS on bench marks" or "GPSBM" in NYS, thus improving the accuracy of NAVD88 elevations that can be achieved using the NYSNet RTN and the latest NGS geoid model. "GPSBM" data are used as control data in the development of new geoid models and consist of bench marks where both the GPS-derived NAD 83 ellipsoidal height and leveled NAVD 88 orthometric height are known.
Regional Efforts
New York participates in the Great Lakes Regional Height Modernization Consortium.
Program Details
Additional Web Page(s)
Contact Information
Steve Roden
New York State Department of Transportation (NYSDOT)
Email
For additional inquiries, contact the State Geodetic Advisor Program or the National Height Modernization Program directly. State geodetic advisors serve as liaisons between NOAA and regional or state organizations.