Montana Height Modernization
Overview | Accomplishments | Regional Activities | Program Details | Contacts
Program Overview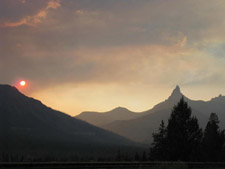 Beartooth Mountains
Photo: Kristin Cook
The Montana Department of Transportation in cooperation with the Montana Height Modernization Working Group, a consortium of public and private sector surveyors, GIS professionals, program managers and other interested parties, has partnered with NOAA's National Geodetic Survey to develop and promote the state's height modernization efforts.
The primary goal of Montana height modernization is to augment state geodetic resources to efficiently support all surveying, engineering and mapping activities. This will greatly assist all Montana users of spatial information in managing critical issues including safer transportation systems, energy development and transmission, economic development, precision farming, homeland security, engineering and construction, flood mapping, and environmental protection.
Accomplishments
The Montana Height Modernization Working Group has taken a multi-tiered approach to height modernization efforts in the state. Efforts are being directed towards developing and maintaining a statewide height modernization plan, providing outreach and education, enhancing the state's geodetic reference network through the CORS densification and other height modernization surveys, and investigation into the development of a statewide geodetic reference center. The original Montana Height Modernization Plan was developed in 2007, and it has subsequently been updated in 2008 and 2010. Additionally, a concerted outreach effort has produced numerous accomplishments including:
Creation of a statewide CORS coverage plan, geodetic reference center plan, and a Height Modernization Executive Summary that were all published to the newly developed web page
Development of outreach materials including an information brochure
Continued participation in NGS monthly height modernization coordination meetings, regional meetings, and state planning meetings
Hosting of a Height Modernization booth at the Montana Association of Registered Land Surveyors (MARLS) Conference 2010 and presentations to other groups/interested individuals
Discussion of height modernization and geodetic reference center with potential partners, hosts, beneficiaries, and participants
Finally, the geodetic reference network itself continues to grow as several CORS were installed and several others were upgraded. A Height Modernization survey also was completed in Flathead Valley.
Regional Activities
Montana is part of both the Western and Central Regions. Partnerships and collaboration have helped leverage resources in the Montana Height Modernization effort. For example, Montana has partnered with the Idaho geospatial community to continue development on multi-state control point database (MCPD) and to investigate the establishment of a regional geodetic reference center to sustain the MCPD and CORS in both states.
Program Details
NGS Height Modernization Grant recipient
Contact Information
Bryce Larsen, Supervisor Photogrammetry and Survey
Montana Department of Transportation
Email
For additional inquiries, contact the State Geodetic Advisor Program or the National Height Modernization Program directly. State geodetic advisors serve as liaisons between NOAA and regional or state organizations.