Mississippi Height Modernization
Overview | Accomplishments | Regional Activities | Program Details | Contacts
Program Overview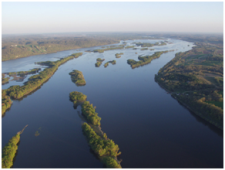 The Mississippi Height Modernization Initiative (MHMI) works to ensure accurate height information is available to the public. Subsidence rates in the lower Mississippi Valley and Northern Gulf Coast region are relatively high; as a result, it is particularly important for Mississippi's Height Modernization program to provide an updated and sustainable elevation reference system. Accurate heights improve coastal inundation modeling and flood plain mapping; additionally, many design, construction, and transportation projects require accurate heights.
The MHMI focuses on implementing a statewide CORS network which will ultimately include 50+ CORS (2 located with long term tide instruments) at approximately 70 km spacing. Some CORS will be upgraded to be GNSS compatible, and the long term goal aims to equip the CORS network with Real Time capability. Additionally, the MHMI plans both a statewide leveling and GPS campaign. Bench marks from the leveling campaign will serve as vertical control for the GPS. By including CORS as part of the GPS campaign orthometric heights will be established at those sites.
Accomplishments
In 2005 an initial CORS network was implemented in southern Mississippi. Presently, over 35 CORS have been placed throughout the state, and additional stations will continue to be installed.
Regional Activities
In 2007 NOAA designated Gulf Coast Geospatial Center as the Mississippi Spatial Reference Center (MSRC), and the center has many regional partners including Mississippi Department of Transportation (MDoT), Louisiana Spatial Reference Center (LSRC) at Louisiana State University, Center for Advanced Spatial Technologies (CAST) at the University of Arkansas, and Florida Department of Transportation (FDOT). A high priority regional goal is to re-run a leveling line along the Northern Gulf Coast.
Program Details
NGS Height Modernization Grant recipient
Project(s)
Gulf Coast Height Modernization Project (2012): NGS supported (project page)
Related Links
Additional Notes
Contact Information
David Mooneyhan
University of Southern Mississippi
Director, Gulf Coast Geospatial Center
Email
For additional inquiries, contact the State Geodetic Advisor Program or the National Height Modernization Program directly. State geodetic advisors serve as liaisons between NOAA and regional or state organizations.