Michigan Height Modernization
Overview | Accomplishments | Regional Activities | Program Details | Contacts
Program Overview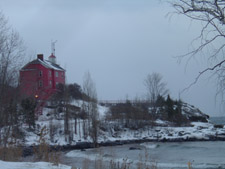 The
Michigan Department of Transportation
's (MDOT) Height Modernization project aims to provide a three-dimensional statewide network of reliable National Spatial Reference System (NSRS) data utilizing the existing MDOT Continuously Operating Reference Stations (CORS).  A robust reference system has many benefits that include reducing MDOT's planning and construction costs; supporting the transportation of goods and people by auto, ship or plane; and validating vertical control at permanent and seasonal water level gauges along Michigan's Great Lakes harbors and shoreline.  The primary tasks for this project include mark setting, differential leveling and GPS observations in critically identified areas.  Additional tasks include creating a graphical user tool for the analysis and use of the data as well as publicizing the Height Modernization initiative through outreach and training.
Accomplishments
MDOT has employed students from
Ferris State University
and
Michigan Technological University
to complete numerous leveling and GPS campaigns, and the agency has also been installing and operating a CORS network called the Michigan Spatial Reference Network (MSRN) with state and local funds since 2000. MDOT completed a Height Modernization pilot project in fiscal years 2006-2007 investing $1.2 million in four counties near Detroit. The project installed 312 new monuments, completed 1,800 km of leveling and recovered 168 marks. A Height Modernization grant from NGS supported an observation campaign of all CORS 3D reference marks in the Michigan pilot project area. The CORS reference marks are a "pair" of concrete monuments set within 1 km of each CORS. The grant also supported leveling to three Great Lakes water level stations and an effort to visually depict and analyze geoid accuracies across the state. During fiscal years 2008-2009 MDOT invested another $1.2 million installing 518 new monuments, recovering 244 existing marks and completed over 3,000 km of leveling in 23 counties. As more funding becomes available, MDOT plans to have a complete leveled network across the state and continue outreach activities to raise awareness and build technical capacity.
Regional Activities
MDOT participates in the
Great Lakes Region Height Modernization Consortium
. Within the state, MDOT partners with county and municipal governments, Ferris State University, and Michigan Technological University. Finally, MDOT works with both NGS along with NOAA's Center for Operational Oceanographic Products and Services (CO-OPS).
Program Details
NGS Height Modernization Grant recipient
Partner agency: Michigan Department of Transportation
Principal Investigator: Michael Barger, P.S., Michigan Department of Transportation
Articles
Height Modernization Lets Michigan's Positioning Network Go Vertical, Michigan Department of Transportation Research Spotlight (MDOT Office of Research and Best Practices: Jan. 2011)…pdf
Michigan Height Modernization Program (MDOT Office of Research and Best Practices: 2008)…pdf
Events
July 16-18, East Lansing, MI
Michigan Ag Expo
handout
Contact Information
Shawn Roy, P.S.
Principal Investigator
Michigan Department of Transportation
Email
Thomas Bogren, P.S.
Authorized Representative
Michigan Department of Transportation
Email
For additional inquiries, contact the State Geodetic Advisor Program or the National Height Modernization Program directly. State geodetic advisors serve as liaisons between NOAA and regional or state organizations.