Louisiana Height Modernization
Overview | Accomplishments | Regional Activities | Program Details | Contact Information
Program Overview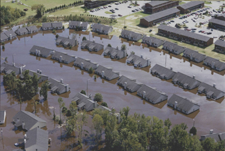 Louisiana continues to lose its coast due to both natural and man-made cases. The main factor in coastal land loss is subsidence brought on primarily by compaction of young sediments and by local faulting. The subsidence has also had the serious effect of disturbing the system of reference markers used for general surveying, determination of the elevations of levees, evacuation routes, coastal restoration efforts, etc. making the vertical reference system in Louisiana "unreliable."
To address these issues, the Louisiana Spatial Reference Center (LSRC) was founded at the Center for GeoInformatics of Louisiana State University in 2002, to help provide the state and its citizens with an accurate and sustainable positional reference system. The LSRC provides technical leadership, training, and a state-wide Global Positioning System (GPS) reference network to support users. The main three objectives of the Height Modernization Program in Louisiana, in addition to the creation of the LSRC, are to recalibrate existing benchmarks, operate the statewide GPS reference station and real-time networks, and assist Parishes in Local Height Modernization efforts
Accomplishments
The Louisiana Height Modernization Program established and operates GULFNet, a network of GPS stations throughout the state. GULFNet now includes more than 60 stations, 26 of which are part of the National Continuously Operating Reference Station (CORS) Network. Additionally, GULFNet has recently been implemented as a Real-Time-Network (RTN).
In 2004, NGS and the LSRC provided an analysis of the historic vertical control (leveling) network in the region. NGS validated (1) the heights of 85 existing benchmarks using GPS, (2) subsidence rates, and (3) an improved geoid model. In July 2004, NGS officially published Technical Document #50 – "Rates of Vertical Displacement at Benchmarks in the Lower Mississippi valley and the Northern Gulf Coast."
In 2006, after Hurricane Katrina, the Federal Emergency Management Agency (FEMA) partnered with NGS and LSRC to complete another Height Modernization project. The project included GPS re-observation of 99 survey benchmarks that had been updated through the 2004 project. In total 330 survey control marks were updated.
Most recently another Height Modernization project began in September, 2010, to re-observe a subset of the 330 survey control marks that were update in the 2006 project. In addition to the subset of marks, NGS is affording an opportunity to any interested parties to update additional marks and to be published ("blue-booked") in the NGS Integrated Data Base (IDB).
Regional Activities
Louisiana is part of the Gulf Coast Region, and it has many regional partners including the Gulf Coast Geospatial Center at the University of Southern Mississippi. Some of the large Southern Louisiana Height Modernization Projects have also been supported by the Harris-Galveston Subsidence District.
Program Details
NGS Height Modernization Grant recipient
Partner agency: Louisiana State University, Baton Rouge, LA
Principal Investigator: Dr. Joshua Kent, Louisiana State University
Projects
Publications
Contact Information
Dr. Joshua D. Kent
Louisiana State University
Email
For additional inquiries, contact the State Geodetic Advisor Program or the National Height Modernization Program directly. State geodetic advisors serve as liaisons between NOAA and regional or state organizations.