Gulf Coast Height Modernization Project
Purpose
Accurate heights impact many important activities including mapping and charting, flood risk determination, transportation, land use and ecosystem management. In some areas, like the Gulf Coast, subsidence has changed the position of passive control marks, rendering their elevation values obsolete.
For this project, NGS calculated new elevations by combining new and old leveling observations as well as estimated rates of elevation change. The new elevations and estimated rates also improved the current geoid model (GEOID12A), further improving local access to accurate heights in the region.
Read more below: Scope, Products, Data, Related Projects, Background

Inland flooding can occur after hurricane or storm events. Accurate heights improve floodplain maps and help plan evacuation routes. Photo: NOAA.
Scope
Mississippi Department of Transportation (MSDOT) has completed a First Order Class II leveling project that crosses the southern region of Mississippi and extends across to Pensacola, Florida. Integrating leveling observations from previous surveys with the new data, a primary leveling adjustment was completed to update elevations in a region of known subsidence spanning eastern Texas, southern Louisiana, Mississippi, Alabama, and westernmost Florida. Using the results of this primary adjustment as control, secondary adjustments of historic leveling observations were completed to update additional bench marks to a consistent epoch across the network.
New elevations were determined by combining new and old leveling observations using a technique called Vertical Time-Dependent Positioning (VTDP). VTDP compares leveling performed at different times to estimate rates of elevation change, and these rates are used in leveling adjustments to compute updated elevations.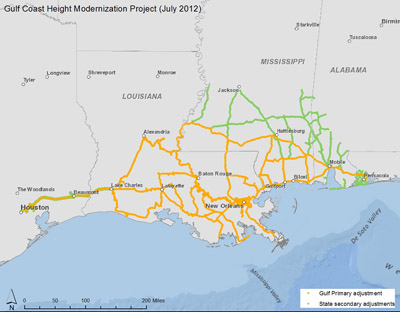 Gulf Coast Height Modernization Project extends from Houston, TX to Pensacola, FL. A secondary adjustment will also be completed in Louisiana.
Product(s)
Stations whose heights are derived from new or very recent observations in this adjustment (such as leveling completed by MSDOT in 2009) will be published as current control on NGS datasheets and related products. Other stations will have their heights suppressed, and the NGS restricted publication is intended to caution users against combining outdated and updated vertical geodetic control.
Additionally, some secondary adjustments have been completed on more recent historic leveling to compute new heights that will be more consistent with the primary leveling adjustment. Bench mark heights resulting from these adjustments, for those stations with VTDP rates, were also used in development of GEOID12A in this region to ensure consistency between leveling and NAD 83(2011) epoch 2010.00 ellipsoid heights. In the near future, NGS will adjust some Height Modernization GNSS survey data using GEOID12A to determine accurate elevations at other control stations in the region.
Data
... coming soon
Related Projects
Background
Since 2004, NGS has restricted publication of NAVD 88 orthometric heights in a region of southern Louisiana where subsidence has made geodetic control obsolete. In recent years, orthometric heights for some bench marks in the region were re-computed using leveling and GPS Height Modernization survey observations. The re-computed orthometric heights superseded existing vertical geodetic control. For those marks whose elevations were not updated in these adjustments, NGS restricted publication, cautioning users against combining outdated and updated vertical geodetic control.
Similar efforts to supersede obsolete vertical geodetic control using new leveling observations have been completed in other Gulf Coast states, and the restricted area has been expanded. Heights at stations in the restricted area are marked "NOT PUB" on the datasheet and the actual height value replaced with "***". All previously published vertical control, including the most recent existing control, is printed in the "superseded heights" section of the datasheet when requested by the user.
We welcome your feedback and comments.