GPS On Bench Marks (GPSBM's) Used To Make Beta-GEOID09
Updated May 3, 2009
---
The Beta data for CONUS (Beta_CONUS) are presented below refer to NAD 83 and NAVD 88. They are listed first as the 12,968 points that were a part of the NRA2007 (Group B), 709 that were adjusted after the NRA2007 (Group C), and 579 Canadian points. There are 310 rejected points (look for the flag 'h' or 'H' in the far right-hand column). The data can be found in the below link with a format description given after that. Below this is an extensive discussion focused on the selection criteria for this model and the outlook and plan for developing the final data set to be used to model GEOID09. I strongly encourage everyone to read on to gain an understanding of what has gone before and where we are going.
The below table contains links to Excel spreadsheets that have the original Beta Files and Working Files for each region. The Beta Files represent the original data used to make the Beta_GEOID09 models for the respective regions. For CONUS, the file is sorted by the two character state identifiers and generally with the data not in the NRA2007 (group 'C') at the top. Data already flagged as bad have also been moved to the top of each state's list.. The Working Files started from the Beta Files and will be amended as needed. Points included in the Beta Files that have been deemed to unreliable will have comments to that effect posted in the right hand column. Mainly, State Advisers will be doing this. Funnel any comments you might have through them to ensure a consistent response for all points in your state.
Additionally, new data points will be considered. Some of these are points that posted after the pull used to make the Beta models. Others represent additional data that may be acceptable (again subject to debate). These points will generally be added at the bottom of the Working file and sorted again by state. The ultimate goal of this work is to define a final working set of data to develop the final geoid model. There will likely be some further removals from the Working Files as the modeling process moves forward and further outliers are identified. However, points in the final Working Files will at least be considered for incorporation into the final model. If you don't get any points you feel should be incorporated onto that list, then it is likely those points will await the next model
The deadline for final extraction and determination of the data is middle to late April. This is based on the previously given deadline of April for readjustment of the pre-NRA2007 data (group 'A') that are to be incorporated into the final Working Files.
---
---

For more background on how GPS on Bench Marks (GPSBM's) are used in combination with a gravimetric geoid to create a hybrid geoid, see the Technical Details file. The focus of this discussion is on the criteria for selecting points. First off, it should be noted that the NGS database has undergone some changes in format. This has resulted in some delays in extraction as it was necessary to ensure that the same type of data are being extracted now as was previously. Additionally, a significant portion of the ellipsoidal heights determined by GPS were incorporated into the National Readjustment of 2007 (NRA2007). This effectively realized these points into a new reference framework, the NAD83 (NSRS 2007). Nearly 65,000 points were involved in the NRA2007, but only around 13,000 were on bench marks and of relevance here. Of note, the changes from NAD83 (CORS96) and NAD83 (NSRS2007) are quite significant with dm-level changes occurring. The below image shows the difference in points due to the changes in ellipsoidal heights from NAD83 (CORS96) and NAD83 (NSRS2007).


Another wrinkle is that the points involved in the NRA2007 were pulled quite a while back (over a year). In the interval between when these were pulled, adjusted and posted back into the database, many projects came in. These were adjusted into the older state HARN networks and published. These points we'll refer to as Group A, and number around 1,000. They differ from those in the NRA2007 by the magnitudes seen in the above figure. so merging these data together will create problems.

Group B will refer to those points in the NRA2007, which is as stated above nearly 13,000 points. Group C then are those projects that have come into after the NRA2007 was entered into the database and represent around 700 points. These points are tied to the NAD83 (NSRS2007) through the ADJUST program but have no error assessments associated with their coordinates. The past few months have seen intense discussion focused on points in Group A & C. These points were initially dropped due to lack of assigned error values, because the error values provided a ready mechanism for separating the worst points. A model was developed solely from the best data in Group B. Data in Groups A & C were then compared to this model. The below figure highlights the differences between them. The black dots show the distribution of the Group B data used to make a geoid model, while the colors show the residuals of the data from Groups A & C with respect to that Group B model.


Note that the magnitude of these differences is comparable to those seen in the changes caused by the NRA2007. This highlights the greater likelihood that some of these data are still on NAD83 (CORS96). Further examples of this are shown by looking more closely at Minnesota where dm-level differences fall in between Group B profiles (red/orange/yellow colors between black dots). Since these profiles are at times only about 10 km apart, this transition between Group B and other data creates a sawtooth variation between points on NAD83 (NSRS2007) and NAD83 (CORS96). Incorporating these data as they now stand would cause such a model to fall between each and fit neither. This would create a regional degradation in the resulting geoid model with likely accuracy degrading from 1 to about 5-10 cm. This was deemed unacceptable.

Conversely, Wisconsin shows a milder difference in a region that was sparsely modeled in the Group B data. Several hundred points were added into a region of several hundred square kilometers, which had only about five points available from Group B data to make the model. The colors (greens) indicate a slowly undulating 2-3 cm signal, which likely represents unmodeled signal from the Group B data. Incorporating such an unmodeled signal into a final hybrid geoid model is highly desirable, because it adds value and increases the local accuracy. Susbequent analysis determined that the data in Minnesota were in Group A, while the data in Group C. Given this, a number of decisions were made.

First, the Beta-GEOID09 model will be determined by data from Groups B & C (see below figure). Second, a quick analysis is being performed to assess the accuracy of all data in Groups A & C. This will help in near term analysis of the data and provide substantive progress by the time of the ACSM meeting where this will be discussed further. Finally, data from group A are being adjusted to fit the NAD83 (NSRS2007) reference frame. This is part of an effort to ensure that all data are at checked to see if they can be incorporated into the final GEOID09 model.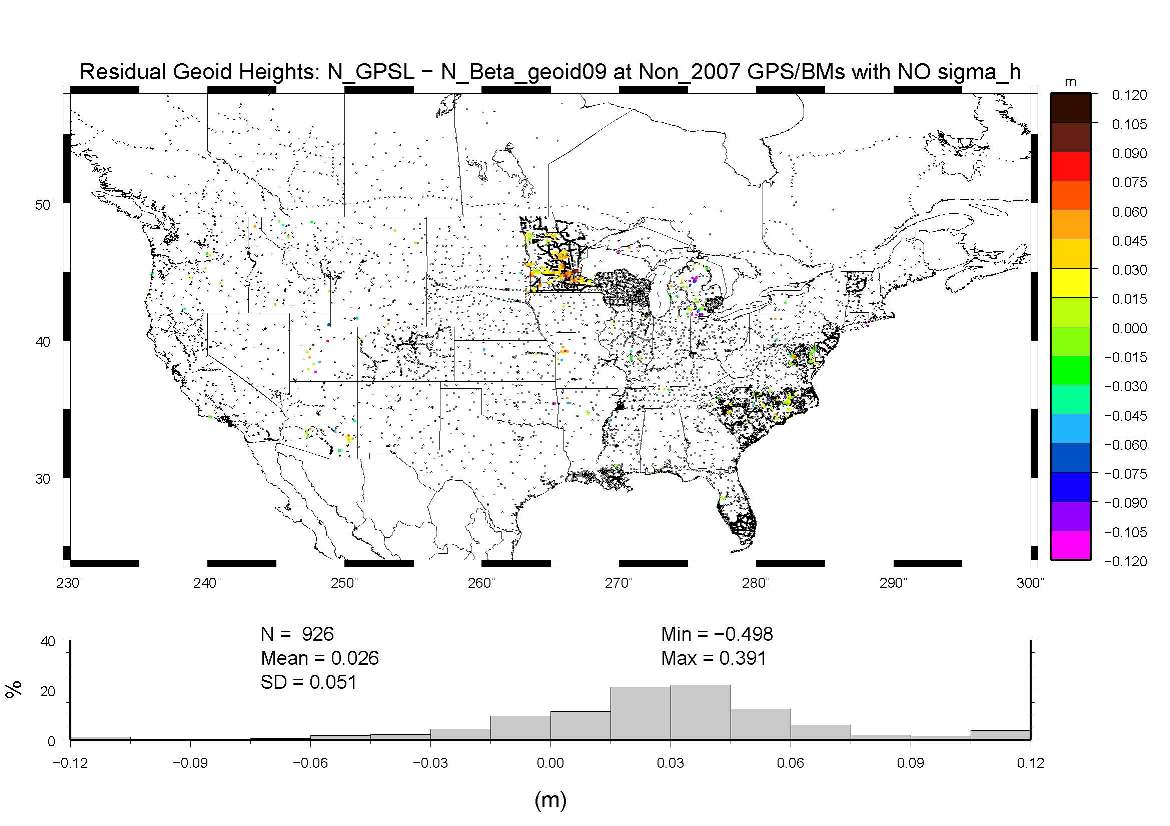 As a final note, the above figure shows the data distribution of the Beta-GEOID09 model (black dots). The remaining color dots show the significant residuals with the Group A data. Significant work needs to be done to incorporate these data. Of course, nothing

guarantees

all points get used.

Within the Group B, about 302 points were rejected based on the associated ellipsoidal height error value. This is, of course, not possible with Group C since they have no such estimate. They were passed by this error checker intact. The 302 points were rejected based on determining the overall sigma value state by state. This had the effect of not letting states that have the preponderance of points dominate the statistics. For example, Minnesota has nearly 3000 points already in Group B. They also have a bulk of those in Group A. The ellipsoidal height error sigma for Minnesota was 0.4 cm (4 mm!). This shows that there data have a remarkable internal consistency that would be seriously degraded by adding in Group A data without further adjustment.

If a national selection criteria were developed, then this would mean that they would dominate the national numbers. Recall there are only about 13,000 total points, so 3,000 points would signficantly influence any national number. Hence, states with greater vertical instability (California, Texas, etc.), would see a significant portion of their points dropped, because they would be judged against an overly rigorous standard. State-by-state analysis permits states with better numbers to have a more refined screening without unduly affecting others. It also means that those states that have invested the time and energy in developing comprehensive networks will reap the benefits. However, this analysis is only really affective when ellipsoidal height errors are available, which is one of the reasons that a strong emphasis has been made to have all future adjustments provide error estimates.

It should also be noted, that only 7 further points were identified as having bad orthometric heights and none had bad geoid heights determined. Some of those points rejected for bad ellipsoidal height errors may also have had been orthometric heights, but this was not checked. It would make sense if they did, as this would be a sign of vertical instability (e.g., California). However, it is irrelevant if there is more than one reason to reject a point - it is still not going to be used.

For now though, take the above discussion as a lesson on how to proceed forward. I used a geoid model to examine the residuals at a set of bench marks not included in modeling. Recall that the test model was made only from Group B, and data from Groups A & C were checked against it. The nature of the residual values in Minnesota showed significant irregularities that argued against inclusion in a final model. Conversely the residual in Wisconsin showed merit for including them. If you have data that you think should be included in the final model, perform a similar analysis.

Either download the Beta-GEOID09 model or use the interactive online tool to run your points past the model. Remove the orthometric height (NAVD 88) from the ellipsoid height (NAD 83) to form a point geoid value, then remove the Beta-GEOID09 geoid height to form a residual. A case that would argue against inclusion would be where the data demonstrate a random difference (positive or negative numbers between 1-10 cm with no discernible pattern. This likely indicates data that don't contain any new correlated signal that will better the final hybrid geoid model. If you observe systematic smoothly varying signal in a region that was previously devoid (e.g., Wisconsin), you should make a case for inclusion. Send your state adviser a message about this. The state advisers can validate the analysis, amass these and send them on (with plenty of their own analyses as well, I'm sure).

The goal of this work is to ensure that the maximum number of points are used that also contribute the best signal. Hence, there is a trade-off between quality and quantity to be considered. The aim is to have this process largely completed in the next couple of months. It is expected that a more thorough re-analysis of the Group A data will be completed at that time and a final pull of the database made. Do also note that projects continue to roll in and be adjusted into NAD83 (NSRS2007). When I make a pull of the data, new information comes in after that. You may not see your project points in the list, but they will likely be in the final pull. Just the same, test any such points to ensure that there are no problems with them - don't wait until April!

---
Got a question?